http://knitty.com/IS...agiccaston.html
By Judy Becker
There are advantages to knitting socks toe-up. For example, the sock can be tried on as you go, so the fit is perfect. If you are not sure you have enough yarn, you can knit both socks at the same time and stop when your yarn runs out.
There are various ways to start a toe-up sock: Figure-8 cast-on, provisional cast-on, long-tail cast-on combined with grafting, etc. I used to use the figure-8 cast-on, but it leaves loose stitches that have to be tightened back in after a few rounds. Even with lots of practice, I usually had to make two or three tries at it. Although invisible from the outside of the toe, on the inside the figure-8 cast-on leaves a blank space between the purl bumps of the first round.
I thought that the world needed a better way, a more
humane
way to start toe-up socks, so I developed Judy's Magic Cast-On. It's an easy to learn, fast method that starts at the very end of the toe and works the first time, every time. It's completely invisible from both sides, and it can be used with almost any toe-up sock pattern.
Note
: These instructions assume that you have some familiarity with knitting socks toe-up. The pictures show the Magic Cast-On using two circular needles. Instructions for knitting two socks at the same time and for using the cast-on with DPNs are at the bottom.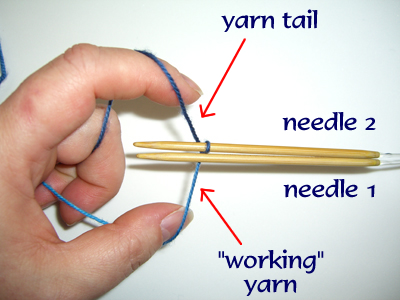 1.
Make a slip knot and place the loop around one of the needles. The anchor loop will count as the first stitch.
2.
Hold the two needles together, with the needle that the yarn is attached to toward the top. We'll call this needle #2 and the other needle will be needle #1.
3.
In your other hand, hold the yarn so that the tail goes over your index finger and the working yarn (the yarn that leads to the ball) goes over your thumb. This is opposite from how the yarn is usually held for a long-tail cast-on.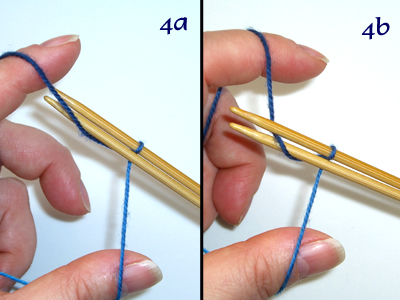 4.





a. Bring the tip of needle #1 over the strand of yarn on your finger,
b. around and under the yarn and back up, making a loop around needle #1
c. Pull the loop snug, but not tight, around the needle.
You have cast one stitch on to needle #1.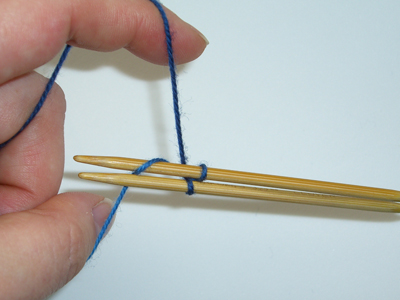 Таня нашла вот: